At ACA, we foster Character-Building Athletics!

Athletics are an integral part of American Christian Academy, and exist not as just a venue for competition, but as a method to develop strong character and positive attitudes in our students. Patriot athletic events are just one of the things that bind us together as a family. Elementary children play around the stadium in their jerseys and cheerleader uniforms waiting for the day that they can represent our school on the field. Even families without student athletes are regular supporters of our athletic events.
Athletics offer a valuable opportunity to help shape the lives of our students. It is important to us that our coaches embody the Biblical beliefs held by the school. Coaches pray with players after practices or games and often share devotions with them in the locker room. Our teams are competitive because they are united and care for each other in all areas of life.
Teams and individual players are also active in the community and have served in a variety of ways. Our football teams have a program called "Reading Buddies" where they partner with our elementary lids. Cheerleaders and dance line members have made visits to area nursing homes and the VA hospital. Elementary training camps offer younger students the opportunity to learn about team sports with student athletes in high school, developing the heart and spirit of the next generation of Patriots.
Student athletes are held accountable for their progress both on the field and in the classroom. Because players represent the school and the testimony of the Lord Jesus, excessive disciplinary violations are not tolerated. Our student athletes are role models for hundreds of elementary children, and they are challenged to take that responsibility seriously. We recognize that success on the field is inconsequential without success off the field.
American Christian Academy has 44 teams competing in 23 different sports. Our teams receive excellent support from faculty, staff, students, and fans. They are competitive in the Alabama High School Athletic Association. We face teams from some of the best public and private institutions in the state.
The Patriots hold numerous State Championships (26 in Cross Country & Track and Field alone) as well as numerous Area and Region Championships in a multitude of sports. Our campus features athletic facilities that rival schools much larger than ours. Danny Logan Field is home to our football and soccer programs, and it also serves as a practice facility for cross-country, track and field, and other teams. The weight room and training areas give student athletes a place to work out and meet with coaches. Baseball and softball teams each have their own field with press boxes, locker rooms, and concession stands, and indoor practice facilities.
Patriot Athletics unify our ACA family, and serve to develop students spiritually, mentally, socially, academically and athletically.
Rob Cain
Athletic Director & Campus Pastor
American Christian Academy
205.310.8067 (Cell)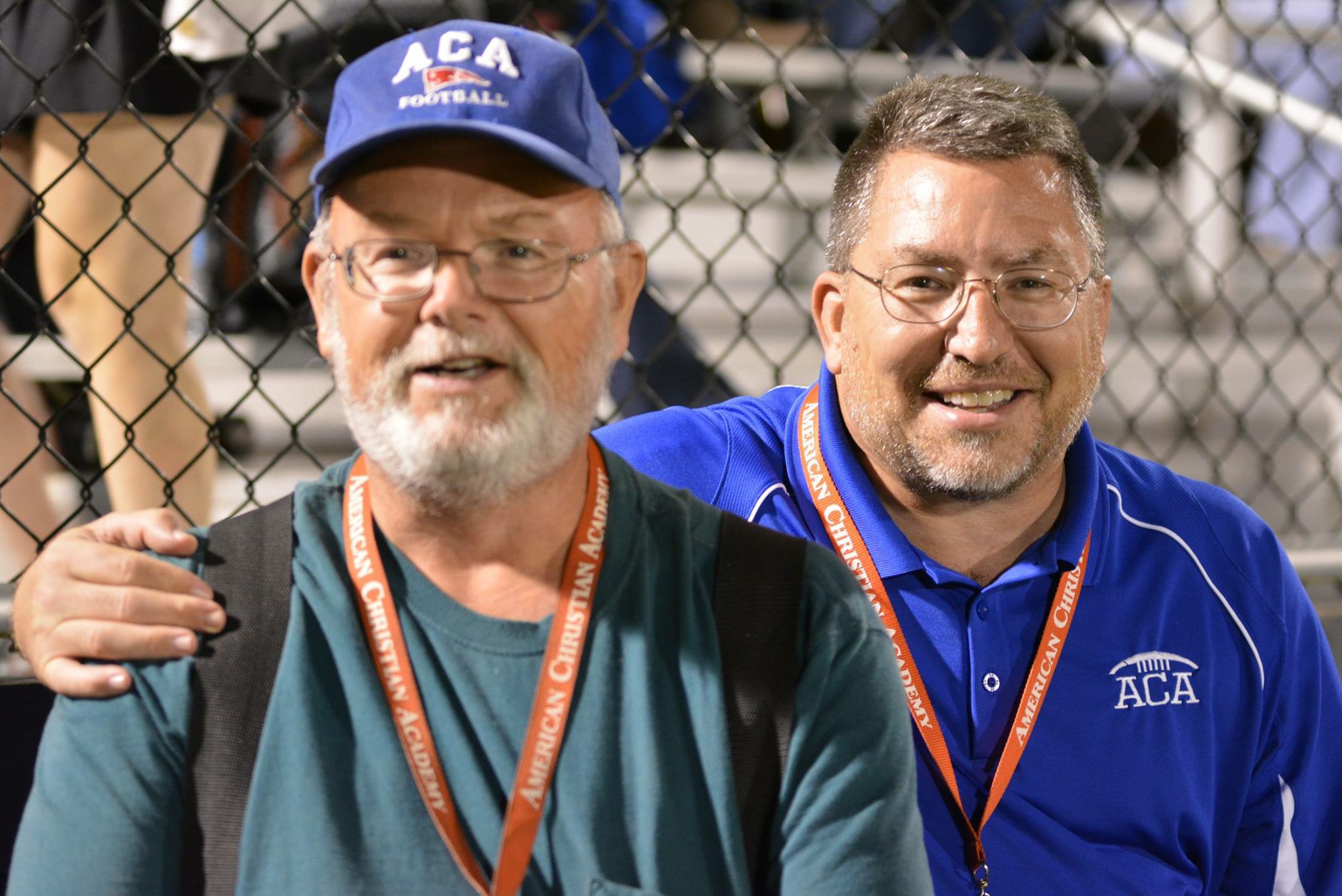 Danny Logan and Athletic Director Rob Cain
The ACA Football Field was named in Danny's memory in 2015.